Hope Blooms is a North End Halifax community garden and salad dressing business run by inner city youth with help from mentors. It began in 2008 as a garden project with less than 12 kids involved, and has grown exponentially.
The children plant seeds, tend crops, and turn their produce into organic dressing which is sold locally. Funds from the sale of the dressings go to a scholarship fund and community programming. The program's first recipient recently finished his first year at the University of Toronto, and another will be attending Stanford.
Build Right Nova Scotia heard about the great work the kids of Hope Blooms were doing and wanted to get involved. So, the tradespeople of Build Right constructed a state-of-the-art greenhouse for the youth-run social enterprise. Build Right Nova Scotia contributed all of the supplies and labour for the facility. The Hope Blooms youth were very involved in the process and their ideas were incorporated into the project.
This greenhouse is very special; here are some fast facts about the structure:
The greenhouse is a 1,500 square foot, off-grid building;
It draws nearly all of its energy from the sun;
It is glazed with 525 sq. ft. of twin-wall polycarbonate (which insulates 60 times better than a comparable single thickness of glass);
Solar-powered vents open automatically when it is hot and close when cool;
The walls are nearly two feet thick and incorporate tremendous thermal mass and high levels of insulation
(R-30);
The walls are constructed using insulated concrete forms made from concrete and waste wood chips
(Durisol ICF);
Rainwater, to be used for irrigation, is harvested from the roof and collected in a storage system located inside the building;
The greenhouse features a gravel floor that allows for improved plant transpiration ("breathing");
The compost bin has a capacity of 75 cubic yards. Heat given off by decomposing compost warms the air inside the greenhouse. This improves the greenhouse's performance on cool, cloudy days and extend the growing season.
The construction of the greenhouse was captured from the very beginning; check out this time lapsed video https://www.youtube.com/watch?v=88xGHhi30Wg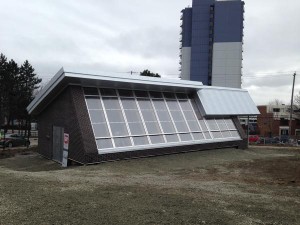 Interested in learning more?