The Nova Scotia Construction Sector Council partnered with industry and the Province of Nova Scotia to develop a one-of-a-kind facility to showcase trades and management related occupations in the industrial-commercial-institutional construction sector.
The venue has been designed to provide participants with the opportunity to learn from the Building Trades' experienced tradesmen and women, engage in hands-on demonstrations and have career related questions answered.
Students, teachers, career counselors, community groups and the general public have the opportunity to experience the unique qualities of each occupation by visiting interactive "booths" that showcase individual trades and management occupations. For example, instead of just reading a brochure about becoming a bricklayer, participants are able to speak one-on-one with one of our Building Trades' professionals about the nature of their trade and even lay a brick or two.
Interested groups can choose from experiencing a 1-2 hour "Construction Gallery" viewing; a 4-hour "Speed Trades" exploration; or a full day "Construction Immersion" workshop.
The Trades Exhibition Hall was featured in the October 2014 edition of Maclean's Magazine….check out the article.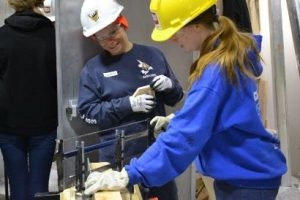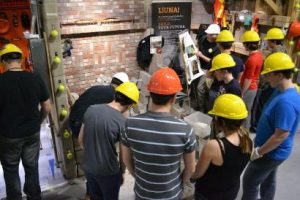 Interested in learning more?
There have been over 5,000 visitors to the Hall to date. Over 100 schools/groups from throughout the province have participated.